KAYAK in Positano Excursions & Rental

A unforgettable experience is waiting for you!
We make daily trips to Amalfi or Positano to see the coast during the day, at sunset or at night with the full moon! It is essential to know how to swim
Rental
Single
Two Seater
Kayak
€ 10,00 / 1hour
€ 15,00 / 1hour
€ 30,00 / half day 4h
€ 50,00 / half day 4h
€ 50,00 / full day
€ 90,00 / full day
Rental
on reservation - from 17:00 to 20:00
Wakeboard and Water ski
€ 100,00 / half hour
€ 150,00 / 1hour
Excursion
Time
Tour
€/pax
Sunrise
07:00 - 09:00
Positano coast
40,00
Morning
09:30 - 12:30
Positano ~ Praiano
45,00
Afternoon
14:00 - 17:00
Positano ~ Praiano
45,00
Sunset
17:30 - 19:30
Positano coast
50,00
Moon light
20:30 - 22:30
Positano coast
50,00
Mari e Monti
09:00 - 15:00
Praiano ~ Positano
95,00
The times of the tours are flexible, you can book full day or half days on request.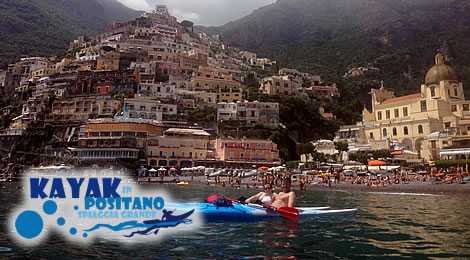 Kayak Excursion
The different tours last for about 3 hours and take place along the Amalfi Coast, departing from the "Spiaggia Grande" - the main Positano beach - are:
Along the coast, exploring the beaches, caves and coves that characterize it and make it unique, during te excursion we will stop to swim in isolated beach, away from the crowd, to snorkle or dive.
Excursions at sunset, to enjoy the quietness of that time of the day and to watch the sun slowly disappearing in the water or beahind the mountain, while the sky keeps change colors, with Li Galli islands and the Faraglioni of Capri as a frame, at the end of the tour de will enjoy some Prosecco on the kayaks overlooking Positano.
Sunrise excursions, to enjoy the peace and the colors of the sea and the coast before all the boats start running.
During the evenings of the full moon, in summer, we also organize kayaking to enjoy the sea at night and the spectacle offered by the reflection of the moon on the water with the stunning Amalfi coast in the background.
We organize excursions of half day or full day.
We can plan departure and arrival from any beach of the Amalfi Coast. We do also private excursions.
Kayak in Positano provides you with all the necessary equipment and the assistance of a person who will accompany you during your excursions.
It is essential to know how to swim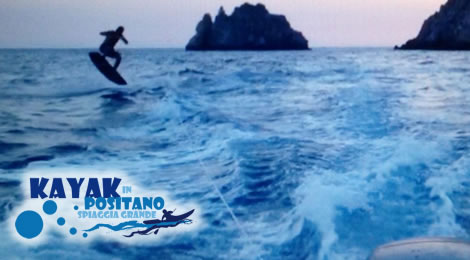 Water ski & Wakeboard
The Windsurf Kayak Praiano offers the unique opportunity to do Waterskiing and Wakeboard in a wonderful setting such as that of the Amalfi Coast!
The time must be arranged in advance and is reserved for customers already familiar\experts